7th Conference on Sustainable Mobility
Climate Crisis and Resilient Transportation Systems
Plastira's lake, Karditsa, Greece, 4 – 6 September 2024
Plastira's lake, Karditsa, Greece, 4 - 6 September 2024
Climate change leads to an increasing occurrence of disruptions caused by extreme weather events, such as storms, floods, drought and wildfires, which result in loss of lives and livelihoods, and huge and irreversible impacts on fauna and flora.
Read more about recent climate crisis events
Scientists stress that human activity is responsible for climate change and drastic and immediate action to eliminate emissions of carbon and other pollutants is of outmost importance to mitigate the impact and even prevent extreme events. Transportation is one of the main emission-generators and directly disrupted by these events' consequences.
Regions need to be prepared and equipped for the prediction, prevention, management and restoration of climate crisis events in an efficient and holistic way. Sustainable development policies, robust techniques and trustworthy and resilient systems comprise the aim of research and innovation, expected to support safely geared and resilient ecosystems. Collaboration amongst governments, researchers, technology and service providers and society is of outmost importance.
The main theme of the 7th Conference on Sustainable Mobility – CSuM2024, "Climate Crisis and Transportation Resilient Systems", aims at the dissemination of knowledge and the exchange of research and good practices among researchers and practitioners towards the adaptation of the transportation systems to climate change.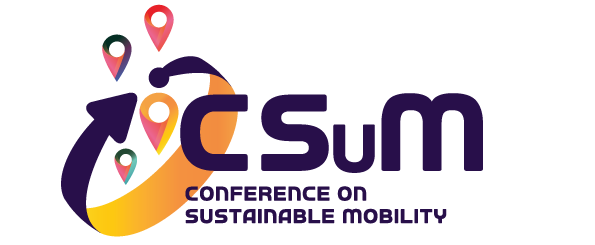 There will be an option for attending the Conference virtually (with reduced registration fees), for those who will not be able to travel.
The conference is organized in eight thematic tracks and research on other relevant areas is welcome.
Special sessions & Workshops
Notification for abstract acceptance
Notification for paper acceptance and reviewers' comments
We are pleased to announce that the Online Submission System to submit your abstarcts is open. You may submit your
Read More »
We are pleased to invite you to submit your abstract. For more information, please find the call for abstracts.
Read More »
* For the registration of students, a photocopy of a valid student ID should be sent along with the copy of payment.
Participation in all Conference events
Paper publication in Scopus indexed book series
Coffee and lunch breaks, welcome cocktail, official dinner
One-day/Virtual attendance